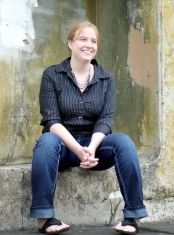 Wendy Sparrow lives in the Pacific Northwest with two quirky kids and an amazing husband. She's an autism and obsessive compulsive disorder advocate and was featured in Chicken Soup for the Soul: Raising Kids on the Spectrum. Her love of telling stories was much less appreciated at a young age—which is why she's heard the "Boy Who Cried Wolf" so many times she could have written the screenplay at age five. She believes in the Oxford comma, the pursuit of cupcakes, and that every story deserves a happily ever after. Most days she can be found on Twitter (@WendySparrow) where she'll talk to anyone who talks back and occasionally just to herself.
For more information, please visit her website!
Cerridwyn Publishing (CP): Tell our readers something about yourself that they wouldn't find in your bio.
Wendy Sparrow (WS): Well, I used to work as a Barney impersonator and do a spot-on Barney impersonation when I was in my late teens. I had to get out of it because it got too dangerous. (No joke.) I got jumped while in a parade and punched in the stomach by a group of rowdy teenage boys…who had no idea they were beating up a 110 lb. nineteen year old girl. I also got heat stroke in that same parade because it was over one hundred degrees that day. They had me travel with a bodyguard for a while, but then I was jumped again and had my head ripped off—my Barney head, and it was too much. I got out of it. I considered going into being a mime. (Also, not a joke.) But there's really no money in it, and I kept losing my invisible box. (That was a joke.) (But not a good one.)
CP: Why did you decide to write a Back to School novella?
WS: For a NaNoWriMo (National Novel Writing Month) project two years ago, I decided to write seasonal novellas. Frosted was one I wrote and later fleshed out. This was another. It started out one third this size. I loved The Teacher's Vet from the first word. I have two kids in school, and I adore teachers. Teachers have changed their lives. My mother and grandmother were both substitute teachers. My aunt was a teacher. Teachers are amazing. I wanted a story that made Back to School a holiday—the start of something awesome because it is. I'm a writer because of an amazing creative writing teacher who saw and fostered my talent. He made me see myself as a writer. Teachers can create a future for someone that they'd never have dreamed of on their own.
CP: What's your favorite part of the story?
WS: I like Caleb's sense of humor through-out all the phone calls between them. He seems like a real person to me. I've got this weird detachment going on where I still laugh at "his" jokes every time I read through this. And his voice is one of the clearest I can hear in my head when I'm reading it.
CP: Where did you get the inspiration for Dr. Caleb, the veterinarian in your story?
WS: You know, I don't really know. I live in a fairly small and rural area, and it can be both awesome and awful that everyone has these connections—and Caleb runs up against that. He knows everyone through their pets, but he's got a bunch of women interested in taking him home with them. I think he's a composite of a lot of different men but, at the same time, he's just his own person. I knew what he would say instantly as I was writing. His personality ran deep throughout this story. I hope that comes through.
CP: What was the hardest thing about writing The Teacher's Vet?
WS: All the veterinary stuff. I have a dog (a husky/lab) and I've had animals over the years, but we just don't go to see the vet very often. So, I asked my best friend all sorts of weird intrusive questions. I'm hoping she figured out it was for a story…because some of them sounded like I was planning to dog-nap her wiener dog from the vet's kennels. "How loud would you say the kennels are? Is there someone there at night watching your dog?" and on and on. (Having a writer for a friend must be surreal. We're total freaks.)
So, I was completely relieved when my editor with Cerridwyn turned out to have years of experience working in a veterinary office. It was a Christmas miracle, a double-rainbow, and a four-leaf clover all at once. It wasn't planned that way at all. And it was ideal because it turns out watching hordes of puppies being born on Youtube doesn't make you an expert. (I know, go figure, right?)
CP: What are your go to resources when you write?
WS: For ideas, I go to non-fiction. Truth is always stranger than fiction could ever be. I read a ton of non-fiction, and my husband is always sending me weird news stories. For research, I do web-searches…lots of web-searches. I have a post that I do periodically on my blog called "Watchlist Wednesday" where I list out my web-searches over a two week period. I belong on a watchlist. It's terrifying. I also consult personality-typing books that I have in order to flesh out my characters.
CP: Do you plan your stories or do you just put pen to paper and see what happens?
WS: I'm a pantser but I'm trying to use outlines like beat sheets to corral my ideas into a plot with enough highs and lows. I'll admit—I tend to go easy on my characters. I don't drag them into a dark moment and let them wallow. But without the dark moments, the story doesn't feel like a complete journey. I still generally change things from my skimpy outline and write by the seat of my pants for most of the story.
CP: What's next for you as a writer?
WS: Actually, during that crazy seasonal novella writing fest, I wrote a Halloween novella that may be coming out, and a Valentine's Day one that will be coming out. That leaves a Fourth of July one that I'll probably turn into a novel eventually. I've been a very prolific writer the last five years, and I'm going through and revising much of it. This year and next, you should see quite a few of my novellas and some novels.
Normally, nothing about the first week of school is life or death, but Mr. Wibbley doesn't look right, even for a turtle. Having one of the students' parents be a veterinarian seems like kismet to substitute teacher Nora Pike—having him be single and the small town's most eligible bachelor much less so. Navigating the drama of the substitute teaching pool is hard enough without all the single staff despising her.
Maybe once Mollie is in college, Caleb Bates, DVM can ease up and date again. Until then, he has his practice and his kindergartener, and that's all he needs. That and to burn all the perfumed invitations to the PTA. Until Nora Pike enters his life—tall, intelligent, gorgeous, and pissed-off when he immediately dismisses her as using a sick class pet to get his attention. She's disinterested. He's intrigued. She's not about to fall for the local vet—even if he is funny and sexy, and not even when he needs help overnight with a dog about to have puppies.
It's just to help him. That's all.
If the small-minded single women of Tall Pines find out their Most Wanted is taken, Nora may never substitute teach in the town again. Since the Garden and Eve, never has temptation looked as sweet as a guy with access to puppies and with a daughter who wants a mom just like Nora.

The Teacher's Vet is currently available in ebook from Cerridwyn Publishing, Amazon, Barnes and Noble, All Romance Ebooks and Smashwords.
Wendy is giving away a beautiful necklace that was created by Murphy's Miscreations. The winner will be announced on Wendy's blog around September 18, 2013. The giveaway is open to US and Canadian citizens.